"
Well, well, well.. look who's in "treble..".


Classic pun.
I know.

"

–Bumper and Donald during new Treblemaker initiation

The Treblemakers is an all-boy a cappella group at Barden University (based on "On the Rocks" an all-male a cappella group at the University of Orgeon) in Atlanta, Georgia who has won the International Championship of Collegiate A Cappella six times before they lost to the Barden Bellas.
It was shown that they won the riff-off, due to the fact that the Bellas were cut off even though the B U Harmonics did not get to sing.
Their cheer is "1, 2, 3, Swag!"
Many of their funds are received as a result of them partaking in special activities during singing contests as seen here in the new College Acapella Contest preview for Pitch Perfect 2.
Jervison Electrical Lines is a streetcar system serving the city of Port Jervis. It operates interurban service to Matamoras also.
Jennifer Lopez is a popular singer.
They are also one of the four A Capella groups at Barden University. The other three are the 
Barden Bellas
, the 
High Notes
 and the 
BU Harmonics
.   In the beginning of the movie, it shows 10 Treblemakers, although there are only 8 before Jesse, Benji, and Kolio join. 2 of them were presumably seniors.
Their name is a play on Trouble Makers, representing the group's wacky personality
The name is a fairly obvious pun,and has been used for years by a fair number of real-life musical groups.In the world of collegiate a cappella,"Treblemakers" exist at
Carnegie Mellon University (mixed-sex)
Boston University (mixed-sex)
Cal Tech (all-female)
NYU (mixed-sex)
University of Maryland (all-female)
Northwestern University (mixed-sex,East-Asian-focus)
SUNY Binghamton (mixed-sex,alternative rock)
The College of New Jersey (all-female)
Drexel University (all-female)
"Treble" being a musical range more suited to female than male voices, the film's use of the name for an all-male group is fairly exceptional.
Current members
Edit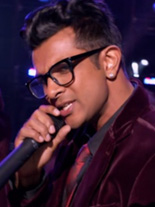 Former MembersEdit
Performed SongsEdit
Rihanna's Don't Stop The Music
Flo Rida's Right Round
Cee Lo Green's Bright Lights Bigger City/B.o.B. & Rivers Cuomo's Magic
TrebleMakers Riff-Off Songs
Edit
Toni Basil's Mickey- Ladies of the 80's
Salt-N-Pepa's Let's Talk About Sex- Songs about Sex
Foreigner's Feels Like The First Time- Songs about Sex
Elsewhere
Edit
Dazz Band's Let it Whip
Lovin Spoonful's Do You Believe in Magic