Jessica is an active member of the Barden Bellas. She is one of the sopranos in the Bellas.
Biography
In Pitch Perfect, Jessica's first appearance is at the auditions, where she sang Kelly Clarkson's "Since U Been Gone" with others who auditioned. She sang the line, "Dedicated, you took the time." where she points to her watch and shakes like an absentminded person. She is also shown to be active in their performances despite being marked insignificant by Aubrey. Aubrey pointed out that it's like they haven't existed all year long. The Insignificant Ones (as some fans call Denise, Ashley and Jessica) were Fat Amy's backup dancers during her solo in their performance during the ICCA finals.
TBD.
Personality
Although little was seen of her, she appears to have a bubbly and eccentric personality. Every time she is shown she is smiling (almost). She was in the auditions for "Since U Been Gone" saying "Dedicated, you took the time" pointing to her watch. Jessica seems to be a little absent-minded also. She is seen during training being shown to be a little less eccentric in her performances.
Relationships
Jessica seems to be close friends to Ashley in comparison to the other girls.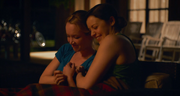 When Aubrey vomited and the Bellas fought, Ashley can be seen comforting Jessica in the background.
In the second film, they are seen linking their arms together in the background, and cuddling at the campfire. Beca says "Jessica, Ashley, to be honest I don't know which one of you is which."
Jessica is close to Denise and Ashley in the first movie in comparison to the other girls in the group.
Jessica seems close to Stacie in the second movie because we can see them talking to
each other. We also see them together a lot.
Trivia
Kelley Jakle was dating Adam DeVine until June 2014, when they broke up during the filming of Pitch Perfect 2.
Kelley is a two-time real-life ICCA champion as a member of the mixed-sex SoCal Vocals.
Jessica's character is way more important in the second movie.
From what is shown in the first movie, Jessica is apparently an energetic person.
Despite her minor role in both movies, she can sing the highest among the Bellas.
Ad blocker interference detected!
Wikia is a free-to-use site that makes money from advertising. We have a modified experience for viewers using ad blockers

Wikia is not accessible if you've made further modifications. Remove the custom ad blocker rule(s) and the page will load as expected.