Jessica is a supporting character in the Pitch Perfect trilogy. She is one of the lesser known member of the Barden Bellas, along with Ashley and (formerly) Denise. She is portrayed by actress and singer Kelley Jackle.
Biography
In Pitch Perfect, Jessica's first appearance is at the auditions, where she sang Kelly Clarkson's "Since U Been Gone" with others who auditioned. She sang the line, "Dedicated, you took the time." where she points to her watch and shakes like an absentminded person. She is also shown to be active in their performances despite being marked insignificant by Aubrey. Aubrey pointed out that it's like they haven't existed all year long. The Insignificant Ones (as some fans call Denise, Ashley and Jessica) were Fat Amy's backup dancers during her solo in their performance during the ICCA finals.
In the second movie, Jessica has a slightly more prominent part in terms of the performances and gets a little more screen time.
However, her and Ashley are still considered 'insignificant' as Beca confesses that she cannot tell them apart. While suspended above the ground she says, "Jessica and Ashley, I don't actually know which one of you is which." The hilarity is that neither do they and both exclaim "I'm Jessica!" simultaneously.
She will return for the third film.
Personality
Although little was seen of her, she appears to have a bubbly and eccentric personality. She is nearly always smiling and despite not having a large part in the Bellas, she seems to enjoy living and performing with them.
Relationships
Jessica seems to be extremely close to Ashley in comparison to the other girls and both girls are
almost constantly in close proximity to one another.
In the first film while Chloe is trying to correct Stacie's seemingly sexual dancing, you can see Jessica and Ashley dancing together in the reflection of the mirror.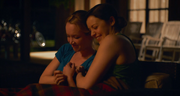 When Aubrey vomited and the Bellas fought, Ashley can be seen putting her arms around Jessica and comforting her in the background.
In the second film, they are seen linking their arms together in the background, and cuddling at the campfire. Beca and possibly the other Bellas, don't know how to distinguish between the two of them.
Whenever Shelley Regner (Ashley) posts a photo of her and Kelley Jakle, she generally puts #Jessley in the caption. This is their confirmed ship name. Them as a couple are quite under the radar and get drowned out by the likes of Bechloe, but there are a couple of fan fictions across the internet.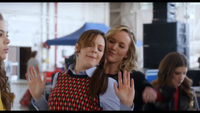 In the Pitch Perfect 3 trailer, both girls can be seen grinding while they sing "I'm coming up". This sparked a few rumours in the fandom that they were possibly a couple. Kelley Jakle later tweeted that "The love is real" in regard to Jessica and Ashley, thus confirming these rumours.
Jessica is close to Denise and Ashley in the first movie in comparison to the other girls in the group. They are generally grouped together as they are the 'insignificant' Bellas.
Trivia
Kelley Jakle was dating Adam DeVine until June 2014, when they broke up during the filming of Pitch Perfect 2.
Kelley Jakle is best friends and used to live with her co-star Brittany Snow.
Kelley is a two-time real-life ICCA champion as a member of the mixed-sex SoCal Vocals.
Jessica's character is way more important in the second movie.
From what is shown in the first movie, Jessica is apparently an energetic person.
Despite her minor role in both movies, she can sing the highest among the Bellas.
Jessica and Ashley are the only members of the Bellas appearing in all three films not to be featured in any of the films' theatrical release poster.

However they are present and have their own pictures taken during the second and third film's poster photoshoot.
Quotes
"Aubrey, really?" - When being told it was as if her and Ashley had been absent the whole year.
"I'm Jessica!"
Ad blocker interference detected!
Wikia is a free-to-use site that makes money from advertising. We have a modified experience for viewers using ad blockers

Wikia is not accessible if you've made further modifications. Remove the custom ad blocker rule(s) and the page will load as expected.