F You

Album:
Pitch Perfect: Original Motion Picture Soundtrack
Released:
December 18, 2012
By:
Lily Allen
Sung by:
The Sockapellas
Place:
Regionals
"F You" by Lily Allen is featured in Pitch Perfect. It is sung by The Sockapellas.
The Sockapellas:
Look inside
Look inside your tiny mind
Now look a bit harder
'Cause we're so uninspired, so sick and tired of all the hatred you harbor

So you say
It's not okay to be gay
Well I think you're just evil
You're just some racist who can't tie my laces
Your point of view is medieval

F you
F you very, very much
'Cause we hate what you do
And we hate your whole crew
So please don't stay in touch

F you
F you very, very much
'Cause your words don't translate
And it's getting quite late
So please don't stay in touch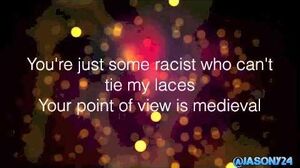 Ad blocker interference detected!
Wikia is a free-to-use site that makes money from advertising. We have a modified experience for viewers using ad blockers

Wikia is not accessible if you've made further modifications. Remove the custom ad blocker rule(s) and the page will load as expected.