---
Ashley is a supporting character in Pitch Perfect and Pitch Perfect 2. She is one of the alto members of the Barden Bellas. She is portrayed by singer and actress Shelley Regner.
Biography
Ashley is one of the new members of the Barden Bellas. She auditions for the acapella group and got in. Ashley promised to leader Aubrey with the rest of the members that she will not have any sexual relationships with any of the Treblemakers. She stuck by that promise.
Ashley then starts to practice with the Bellas, after finding out Kori and Mary Elise got kicked off the team for having sexual relations with one of the Treblemakers. She is seen doing exercise with the rest of the girls. She sings at the Riff-Off with the rest of the group. At Regionals, she is seen singing and dancing with the group and cheering after getting their places at the Semi-Finals. She is shown to be very good at dancing along with Jessica.
At the Semi-finals, Ashley is seen singing and dancing with the group, and is suprised when Beca does something that wasn't rehearsed. They don't get through to the Finals.
After getting their places back in the finals, Ashley and the rest of the group go to practice. They say to Aubrey it's not the same without Beca. She is one of the members that doesn't get into a fight with the other girls. When Beca arrives everyone calms down, and they work out all their differences. They then go sing an idea of Beca's, Bruno Mars' Just The Way You Are, and she seems to be having fun.
At the finals, Her and the group buck up their ideas and sing totally different songs chosen by Beca. Ashley is very happy and singing again. They win and she returns the next year to the group run by Beca now as Aubrey left.
Relationships
Ashley seems to be close to Jessica in comparison to the other girls.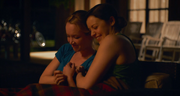 Quotes
Pitch Perfect 2
"I'm Jessica!" (When being asked by one of the Bellas who is Jessica)
Trivia
She beatboxed for the Bellas before Lilly did.
Gallery
Ad blocker interference detected!
Wikia is a free-to-use site that makes money from advertising. We have a modified experience for viewers using ad blockers

Wikia is not accessible if you've made further modifications. Remove the custom ad blocker rule(s) and the page will load as expected.